Research and Analysis Department specialises in initiating and implementing scientific and research projects of interdisciplinary nature, especially in the scope of:
supporting the innovative academic entrepreneurship through research, e.g. the diagnosis of ways of understanding of entrepreneurial characteristics and competence, research on the need for products and services together with defining target groups, research on the competition market, and testing products and services;
technology and innovations transfer: research supporting the search for existing social problems and technological solutions, research on needs and expectations of science and business, and creating innovations, creative problem-solving (Design Thinking) or the development of new products and services (Service Design);
processes of networking science and business: Business Intelligence, User Experience (UX), market research;
creative processes and non-technological innovations: conducting social and economic research with the use of workshops and creative games, and Design Thinking process;
labour market observation;
quality management in higher education: research on teaching quality within the socio-economic environment of the University, among others, consultations of concepts and educational programmes, as well as of the needs of employers hiring University's graduates;
foresight research, social consultations, evaluations and monitoring.
---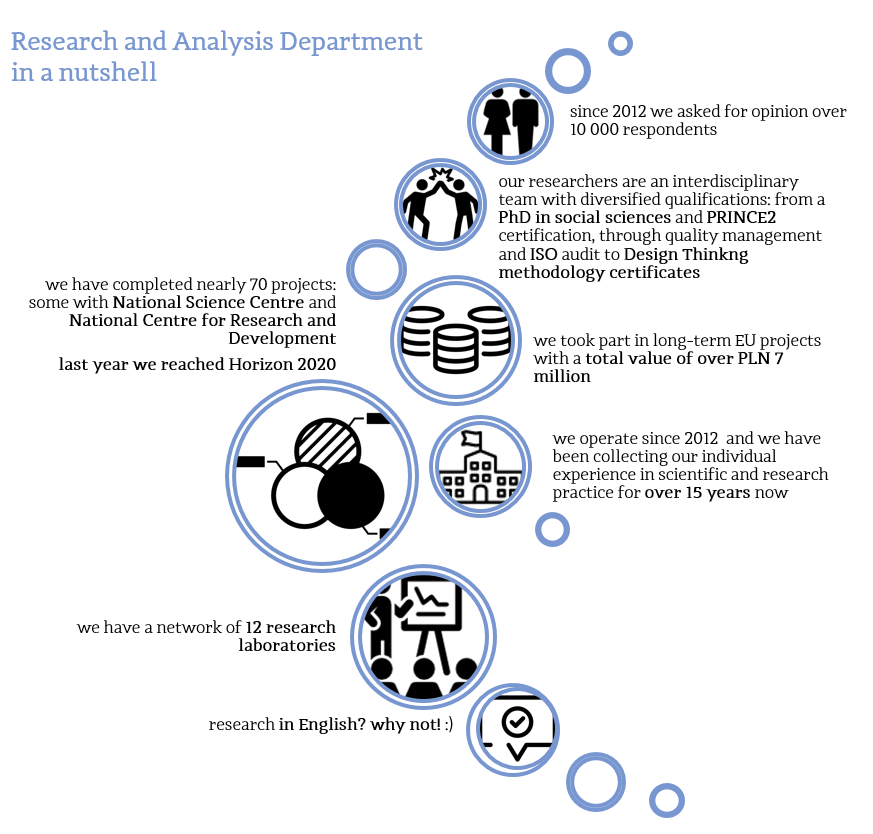 Research and Analysis Department is an interdisciplinary team of researchers, with wide experience in scientific and commercial research. Research/scientific personnel of CZIiTT has knowledge and competence in the area of sociology, economy, psychology, information science, social policy and culture studies. Research and Analysis Department has been established on the basis of the Social Researches Support Department in the Office for Research and Strategic Projects of Warsaw University of Technology.
---
About us
Selected reports
"Needs and expectations of young Polish scientists related to professional research career development" Research carried out within the "Polish ERA Mobility and Career Days" project funded under the EU research and innovation programme HORIZON 2020 and by the Polish Ministry of Science and Higher Education. Report here.
The situation of graduates on labour market. Annual research at Warsaw University of Technology. Infographic here.
"Visual Thinking – Effectiveness And Areas Of Application" The main goal of the study was to diagnose the impact of visual thinking on the process of information acquisition. Report Summary here. Based on the report a visual presentation was made and is available here.
… more reports coming soon!
Selected projects
Global Entrepreneurial Talent Management 3 funded from MSCA RISE in Horizon 2020, is a 4-year project focused on mobility of scientists and research giving participants the opportunity to exchange knowledge, develop skills and establish professional contacts. More info: https://getm3.eu/
Science – Education – Development – Cooperation (NERW Project) is a 2-year EU-funded project focused on university development. More info: https://www.nerw.pw.edu.pl/